Book Group
'We read to know we're not alone.' – William Nicholson.
At Lurgan College we love to read. Our book group, 'Lurgan Literati,' meet on a weekly basis to chat about their passion for literature. Throughout the year we read a series of novels selected by the group members, write reviews and spread a love of literature throughout the school. We celebrate World Book Day and World Book Night with school-based events.
In the summer term, we become involved in the Carnegie Shadowing Scheme. Through this scheme our reading group gain access to the very best young adult fiction shortlisted for the Carnegie Award. This year, the shortlist includes:
The Light in Everything by Katya Balen
When Shadows Fall by Sita Brahmachari, illustrated by Natalie Sirett
Medusa by Jessie Burton, illustrated by Olivia Lomenech Gill
The Eternal Return of Clara Hart by Louise Finch
Needle by Patrice Lawrence
I Must Betray You by Ruta Sepetys
The Blue Book of Nebo by Manon Steffan Ros
We begin the shadowing scheme with a blind date with a book activity making sure the readers don't 'judge a book by its cover' and meet on a weekly basis to chat and swap books amongst the members.
The group culminates each year by watching the live stream of the Carnegie Award and witnessing the selection of the winner for the best young adult novel of the year.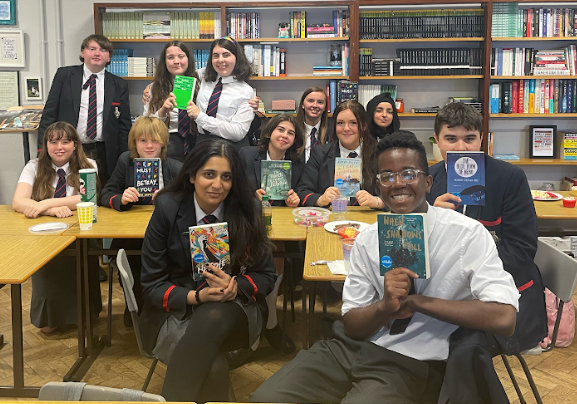 We are a friendly society that is primarily student led and always welcome new members.
Book Club